Philip Tarbei takes first place – Maui's Ryan Tsang comes in second
By  Toni Reavis @ToniReavis
Honolulu, Hi.- The Hapalua Half Marathon crowned a new champion today in sunny Kapiolani Park, and celebrated a new course record, too. In the sixth running of the Honolulu Marathon's spring sister race, Kenya's Philip Tarbei chased down all 21 Team Hawaii runners and bettered his three pro challengers, as well, to post a 63: 27 course record, taking down the 64:08 set by countryman Peter Kirui in 2015. Team Hawaii rookie Ryan Tsang of Maui finished second with an adjusted time of 64:05, based on his 12-minute head start. Kenya's other RunCzech Racing runner Abraham Kipyatich took third in 65:29, as he was still recovering from a 61:03 half marathon last weekend in Prague in the Czech Republic.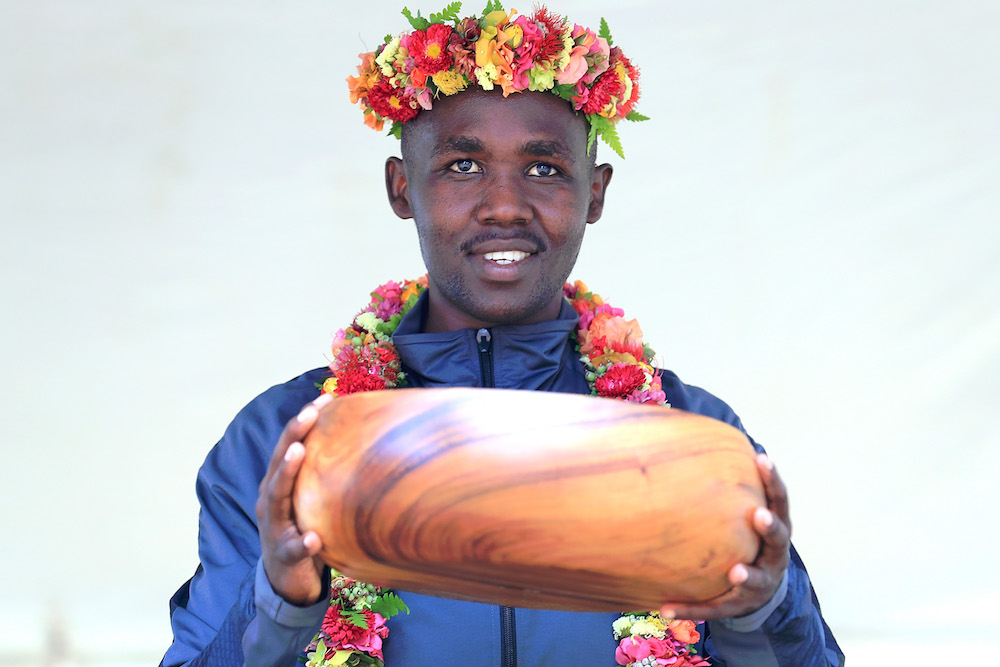 "When we hit 5k I saw the time was really good (14:40), and I was still strong," Philip said afterwards.  "I was telling him (running partner Kipyatich) 'let us push'."
Tarbei and Kipyatich maintained their quick tempo, hitting 10k in 29:28 (14:48) which is where they passed four-time Japanese Olympian Kayoko Fukushi, who many considered the race favorite leading in. Then Tarbei pulled away from Kipyatich as the course departed Waikiki and neared the Monsarrat hill. From there it was knocking off one Team Hawaii runner after another on his way to victory.
"I can use this race to predict more good things," said Philip. "I know I can run much faster on a flatter course."
Tarbei only began running seriously two years after graduating from Tambach Teachers College where he studied humanities. The Hapalua was only his second international competition following a win at the Napoli Half Marathon in Italy in early February where he ran 61:21. Today's performance would likely translate to sub-61 based on the high humidity and the climbs in the final 5k.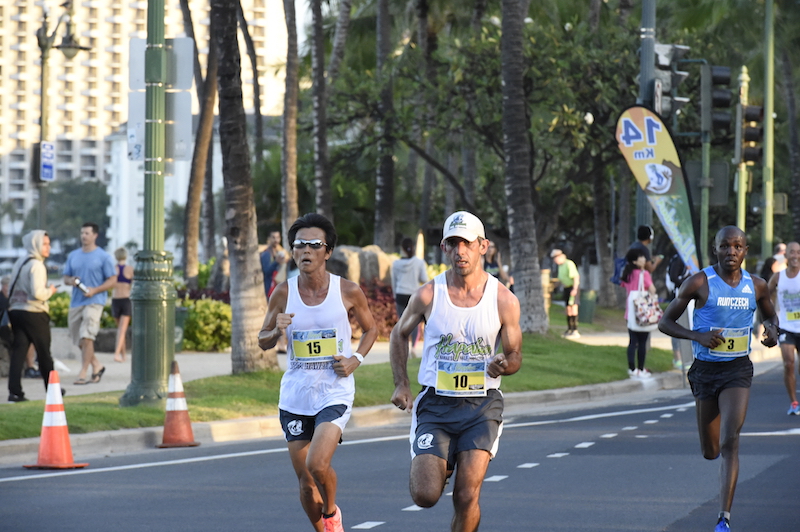 The Chase came down to Tarbei and first time half marathoner Ryan Tsang, 20, a sophomore at the University of Hawaii Manoa, who had over-achieved till that point, passing all his Team Hawaii mates by mile 11.
"At eight mikes I wasn't feeling bad, and decided to push the hill," said Ryan speaking of the climb up  Monsarrat Avenue from 10 to 11 miles. "I was just trying to break 1:18, but then I knew I had passed all of Team Hawaii by the top. I thought Philip and Abraham would pass me by mile 9, but he didn't till the top of Diamond Head."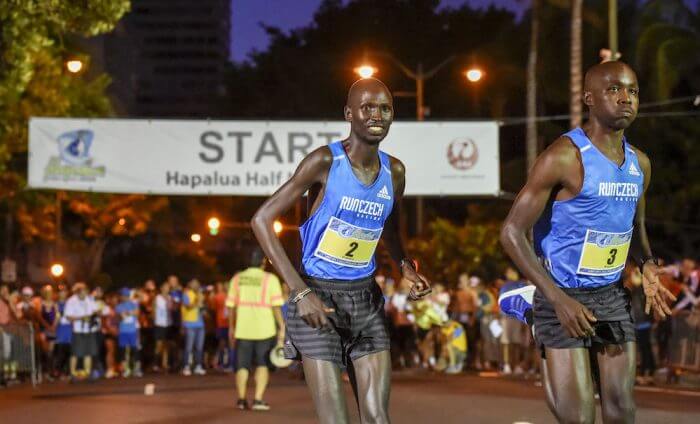 The Chase is the Hapalua's signature element, a racing tool designed by race founder Jim Barahal who once was one of the island' stop runners when he moved to Hawaii from his native Michigan in the late 1970s.
"We set up the head starts for someone to win in 63:30," said Barahal, "either straight up or with the handicap. I told Team Hawaii, 'you're not going to win $5000 with an average day. It's going to take a PR."
Wandering around sun-splashed Kapiolani Park after the race the word average is hardly the thought that comes to mind. In all nearly 9000 runners participated in 2017 as The Hapalua matures and continues to lure runners from around the world to this Pacific gem.
By News Team