About the Start to Park 10k
Date
Sunday December 10, 2023
Start time: 5am
Location
Ala Moana Boulevard/Queen St, Honolulu, Hawaii
Experience the thrill of a mass start with fireworks!
The 10k starts at the same time and place as the full Honolulu Marathon and finishes 10km into the marathon course in Kapiolani Park.
The Start to Park 10k is chip timed and all finishers get a race shirt and finishers medal.
The race is open to everyone and you will be assigned a starting place based on your predicted finish time, which can be fast or slow. It is perfectly ok to walk the 10k course!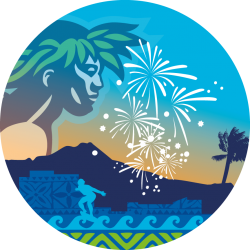 Essential Information
How to Enter
Registration is open to everyone and there is no time limit for completing the 10km run/walk.
Race Packet Pick-Up
Pick up your running packet at the Honolulu Marathon Expo, Hawaii Convention Center, 1801 Kalakaua Avenue, Honolulu, Hawaii 96815
Thursday, December 10, 9:00 AM – 6:00 PM, 
Friday, December 11, 9:00 AM – 7:00 PM
Saturday, December 12, 9:00 AM – 5:00 PM
Please bring your photo ID.
Packet will contain your My Laps BIB number with embedded timing chip.
Please note:
Packets will not be mailed. Packets will not be given out on Race Day
Getting to the Start
Free Shuttle: There are complimentary shuttles running from the Honolulu Zoo to the Start from 2 AM – 4 AM. Board early and don't wait for the last shuttle as there may not be room for you
Walking: Many Waikiki hotels are within walking distance of both the start and finish.
Drop off: Prior to 3:40 am, Start drop off on Waimanu Street. Proceed makai on Pensacola to Waimanu Street drop off, then turn mauka onto Piikoi to escape the road closure. If arriving after 3:40 am, drop off at Pensacola Street / Kaimaile Street or Piikoi Street / Kapiolani Boulevard
PARKING: Vehicle access to Ala Moana Beach Park and Kapiolani Park will be strictly enforced. Only vehicles that have authorized access by the Honolulu Marathon and display the proper vehicle permit will be allowed access.
No parking will be allowed in or near Kapiolani Park or the parking lot after 7:00 PM on Saturday, December 9. Unauthorized vehicles parked in those areas will be ticketed and towed. Parking at the starting line is prohibited.