Hapalua – Hawaii's Half Marathon
About the Hapalua – Hawaii's Half Marathon
Date
Sunday April 11, 2021
Start time: 6am
Location
By the Duke Kahanomoku Statue, Kalakaua Avenue, Honolulu, Hawaii
APRIL 11, 2021
Hapalua – "half" in Hawaiian, is our 13.1m race in April.
The Hapalua is the largest half marathon in Hawaii and starts just by the beach in Waikiki!
Around 10,000 runners and walkers participate. There is no time limit, only Aloha spirit!
The 13.1m spectacular course starts right by the beach in Waikiki and finishes in Kapiolani Park after looping around Diamond Head.
The finisher festival area has concerts, a big screen showing your finish, freshly made malasadas, shave ice and more!
All finishers also get an amazing medal as well as a race shirt and tote bag.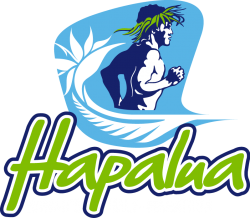 Turn by Turn Course Description
The race begins at the statue of Duke Kahanamoku on Kalakaua Ave, with runners proceeding in a westward direction.
Runners will then turn left onto the makai (oceanside) lanes of Ala Moana Blvd at the intersection of Ala Moana Blvd and Kalakaua Ave.

First Aid Station at 1.2 miles
Portable Toilets at the Start
Runners will proceed on Ala Moana Blvd.

Second Aid Station at 2.4 miles
Runners will continue west on Ala Moana Blvd, turn right on River St. up to King St. and turn right

Third Aid Station at 4.2 miles
Runners veer right into Kapiolani Blvd then right on Piikoi then left on Ala Moana Blvd then left on Atkinson.

Fourth Aid Station at 6 miles
Runners will turn right onto Kalakaua Ave and proceed past the Duke Kahanamoku statue.


Runners will veer left onto Monsarrat Ave and head eastward up Monsarrat Ave toward Kapiolani Community College. Monsarrat Ave will be coned to allow contra-flow traffic in the makai lanes with runners on the mauka (mountainside) lanes. No parking will be allowed on Monsarrat Ave.

Fifth Aid Station at 9 miles (energy gels)
Portable Toilets at 9 miles
Medical Aid at 9 miles
Sixth Aid Station at Kapiolani Community College
Runners will continue around Diamond Head on Diamond Head Rd to Kalakaua Ave, in a westward direction and finish at the Honolulu Marathon Finish Line.

Seventh Aid Station at 11 miles
Medical Aid Station at 11 miles
Portable Toilets at 11 miles & finish
Testimonials
'This was my first half marathon. I'm very thankful for all of the volunteers that made this work. Very good set up, well placed water and medical points, and a great safe route. I had a blast!!! Johnny Strickland'
'Great race! I made a new PR and felt great during the entire course! Water stations were perfect and very thankful for the volunteers handing it out and cleaning up the trash around it. Fast course and the energy was amazing!  So many nice people on the course and everyone is striving for the same goal. Aloha Spirit was great!! Will be doing it again next year!! Mahalo! Sara McGuire Margalus'
'My 5th Hapalua half marathon, the best one yet! Got to do it with friends and even though I didn't train at all this time still came in under 2:30. Awesome to see people embrace the fitness journey whatever that may be for them! Doug Wong'
'This is my favorite half. Well organized and awesome spectators. Beautiful path. Everyone was friendly. So glad came to HI for my 1st half on the West Coast. Loved the shaved ice and fresh pineapple juice. The best traffic control ever. Beautiful weather. Perfect run!!! Hazel Reed'
'This race marked my 7th state on my quest for a half in each state. This race was well organized and the post race food was amazing (best I've seen yet, I've done 10 halfs and 2 fulls)! I finished in 3:00 hours and there was still plenty of food left. I'm so glad I chose this race for my Hawaiian one! Mahalo! Karissa Mcspadden'